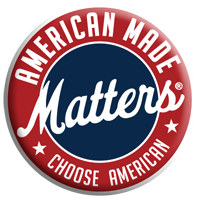 Zentek Clothing Company is a proud member of American Made Matters®, whose mission is to educate consumers that buying US-made products strengthens the American Dream.
Janice was featured in an article by Bloomberg Businessweek regarding American made products.
Zentek Clothing was listed on ABC's 2011 Made In America list.
Products manufactured in the USA often offer:
Greater reliability
More durability
Better fitness for purpose
Superior innovation
Enhanced safety
Less energy to transport to market
More environmentally friendly production with EPA and state environmental compliance

Join American Made Matters
American manufacturers need a unified voice and members will be able to tell their own story and use the logos of American Made Matters® which consumers will come to recognize and seek.
The American Made Matters® brand seeks to stop the rapid decline of manufacturing jobs in the United States of America and rebuild those jobs through a common branding identity and call to action.
American manufacturers need a forum for information sharing and networking opportunities. American Made Matters® will provide an ability to ask questions and share experiences with other members who face similar challenges.
American manufacturers need a way to promote their brands and products. Members will have their logos prominently displayed on our website with a link to their own websites. All members will have an opportunity to participate in themed public relations campaigns to promote awareness of US made products.
* Source: The Manufacturing Institute and Deloitte, LLP
For more information, visit the American Made Matters website for more details.